While millions of people were getting ready for the fight between Mayweather and McGregor, another amazing battle just finished on the mats of the AccorHotels Arena in Paris, France. The men's freestyle team race between the United States and Russia came down to the final match of the entire World Wrestling Championships—and it did not disappoint.
Get our "Top Articles" sent to your inbox weekly.
The United States and Russia were tied with 53 points. The last match was the finals at 97 kg/213 lbs., where 2016 Olympic champion and 2015 World champion Kyle Snyder of the United States, and 2016 Olympic champion and two-time World champion, Abdusalim Sadulaev of Russia, met for the first time.
Sadulaev moved up a weight class this year to challenge Snyder, a matchup the wrestling world has dreamed about all year. United World Wrestling dubbed it the match of the century. In this case, it not only determined the king of the sport, but also which country would become World Team Champions. It was an epic match of great magnitude for each country's wrestling culture. To a wrestling fan, you could not ask for a better script or two better wrestlers to play the lead roles.
Snyder V. Sadulaev // The Match of the Century starts tonight at 7pm Local Time. Tune in! #uww #wrestling #snyderlaev pic.twitter.com/lOqMSOeAbE

— World Wrestling (@wrestling) August 26, 2017
For more context, Russia had won the last 8 of 9 world championships in Freestyle wrestling and since the start of the world championships Russia (or the Soviet Union) have won 33 Freestyle titles with the next closest being Iran and Turkey with five each. Each have been a dominant force in the Freestyle wrestling world since the start of the world championships.
The United States, on the other hand, has had their ups and downs. The last time they won the Freestyle championship was in 1995 and have won three total. The contrast in success set up the showdown for the "match of the century."
And it did not disappoint.
The Beauty of Elite Competition
It was one of the most beautiful matches I have ever seen.
The poise, pace, strength, and stamina of these two men was beautiful. I sat in my basement as I watched these two men do the thing God created them to do at such a level that I couldn't look away. It was mesmerizing. It was fantastic. It was good. It was glorious. I couldn't help but thank the Maker for his grace for letting me see sport the way he meant it to be seen: pure and fun.
Take the hype and even the results away and you are still left with something overwhelming: two guys who literally trained for most of their lives for this moment. The Russian system of training—which involves identifying youth with potential to become elite athletes—had Sadulaev hand picked for World and Olympic success.
But he added the dedication and discipline that brought him to this moment.
The young American took a year off before college to train specifically for freestyle wrestling (a style different than college wrestling) before heading to wrestle at Ohio State.
It's staggering to think about the personal sacrifice and collective support undergirding these two men to bring them to this point.
As a longtime campus minister to elite-level athletes, a number of simple spiritual parallels stuck out to me that every Christian athlete should remember. Here are three truths brought to my attention while watching them:
Sports require both individual resolve and communal support to make a champion
I think of the huge support system—in Russia's domination of a sport, an entire country—that it takes to make a champion. I think of specific guys, and I think of specific coaches.
You can think of them too.
I'm sure you can if you have had any success in sport or life. It takes a community. Take a look at this photo and realize only eight of those guys wrestled in the World Championships. Eight. The rest are those support staff who were able to make the trip to Paris. This picture doesn't even account for the parents, coaches, friends, teammates, and support staff who couldn't make it.
But community alone doesn't win championships. All the communal support and high-level structure in the world won't matter if an athlete doesn't have resolve and dedication.
Step into another category of life and consider the parallels that exist with your Christian faith. You have the opportunity to be around community at any of a dozen churches just up the street. You can find amazing and easily accessible resources on the internet to help you grow. You can ask around on your campus and find any number of campus ministries that exist to resource you toward growth. You have the support system if you want it.
But do you want it?
The biblical character Daniel was a young man who resolved not to defile himself with unkosher royal food and wine, delicious entrees yet all regarded as sacrifices to Babylonian idols (Daniel 1:8. Read the story of Daniel and ponder his resolve—to the point of death—if you are struggling with temptation. The guy is a beast!).
I think of Paul who said, "I resolve to know nothing [while in the cosmopolitan city of Corinth] except Jesus Christ and him crucified (2 Corinthians 2:2). These two men—and the Bible offers many others—had a deep conviction to follow God, share their faith with others, and live in such a way as to bring Him honor. God was glorified through their lives and words.
Are you willing to set your mind to follow in His steps? Do you have the resolve and commitment to follow Jesus wherever he may take you or whatever he may ask you to do?
Will you take advantage of the community and resources God has made available for you to continue growing in your faith? Can you appreciate the need for others who will sharpen you and make you a better man or woman than you could ever be on your own?
Sports are meant to be fun
Watching this match just reminded me that sports are fun. They were meant to be fun and to be enjoyed. When was the last time you had joy playing your sport?
Sports are meant to bring a smile to your face. When was the last time you smiled at a practice or workout? When was the last time you saw your child smile while playing their sport? When was the last sports event that brought a smile to your face?
I'm reminded that our God is creative and enjoys when His prized creation has fun. Even the hard work—the two and three a day practices—can be fun with the right perspective. "Fun" doesn't mean you smile the whole time or that you're not intensely focused on getting better. It means you keep the right reasons for doing it in the first place.
I Corinthians 9:24-27 reminds us to get after the training but do it for the right reason. To get the prize.
The prize being God. Every other prize is a bonus.
When was the last time you just had fun in your sport as a coach, athlete, or parent?
Sports provide a great platform to make Jesus known around the world
As I watched the world championships for the six days, I was reminded of the world-wide influence sports have around the globe. Sports can literally help bring change to social, economic, and spiritual problems to the ends of the earth.
At the wrestling World Championships, 41 different nations took home medals, while dozens of other nations went home without one. The People's Republic of North Korea. Iran. Iraq. Nigeria. Turkey. India. China. These countries aren't friendly to the message of Jesus Christ but they are friendly to the sport of wrestling.
What an opportunity to use the language of sport to reach the world!
Jesus said, "Be my witnesses … to the ends of the earth" (Acts 1:8). Could it be that God wants to use a wrestling mat to reach those who have never heard about him? Could he use a ball? Could he use feet that can run? Could he use someone who wants to leverage the platform of sport for his glory? Could he use you?
The resounding answer is YES! But are you willing to let Him use you in the sport you play?
The Finish
If you didn't watch the video or hear the results elsewhere, Kyle Snyder won the team title for the US and beat the "Russian Tank"! It was a great moment for USA wrestling.
Observe how both competitors realized the value of their platform and took advantage of the opportunity both to express thanksgiving for the community behind them and to thank God:
From Sadulaev, from all reports, a devout Muslim: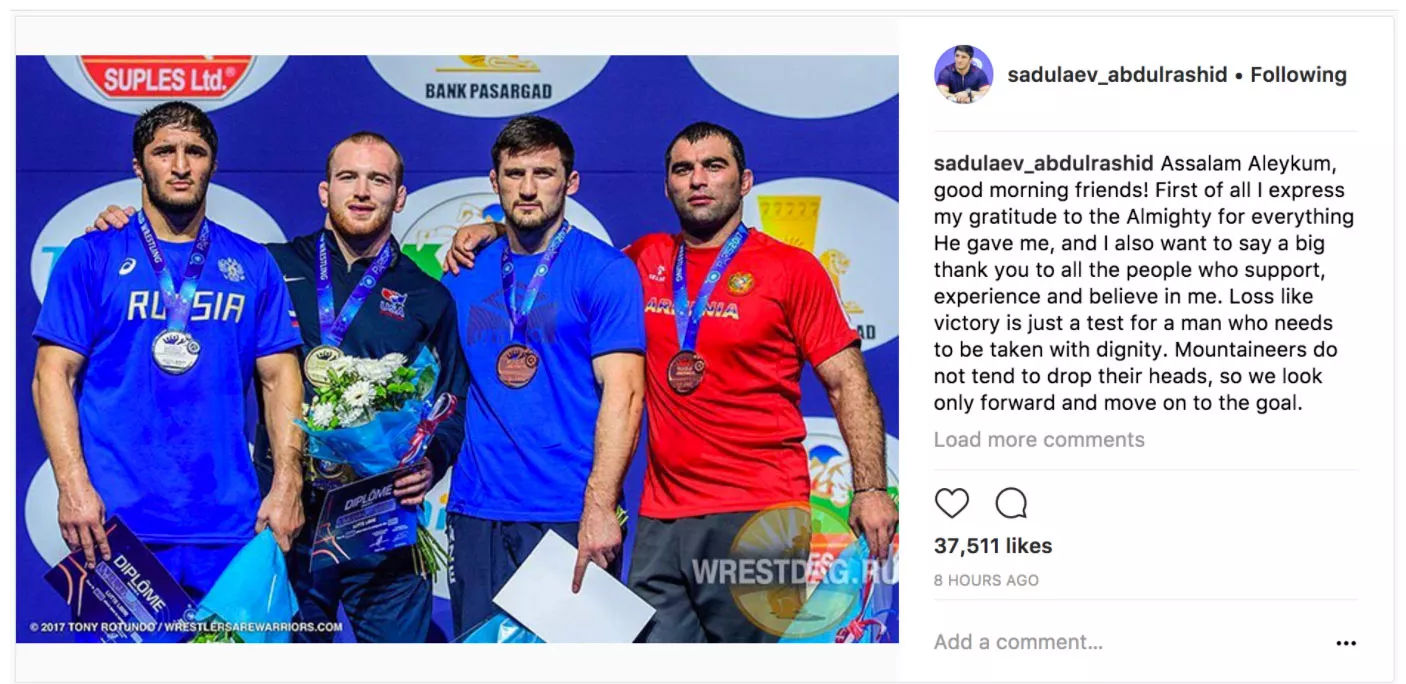 From Snyder, from all reports, a devout Christian:
Any greatness you see in me is merely a reflection from Jesus Christ. Thank you for the support 🇺🇸 pic.twitter.com/JPN0Sa3XYP

— Kyle Snyder (@Snyder_man45) August 27, 2017
Remember the powerful platform you have as an athlete and resolve to use your love of sport to make Jesus known around your community, state, country, and world!